This week, my one-of-a-kind mother, Emily Bernice Theis, left this life to find rest.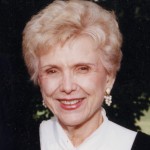 She was a southern girl, raised by a successful farmer and his wife with seven brothers and sisters in the panhandle of Florida. She went by Bernice Jones growing up, because her mother's name was also Emily. She worked at Tyndall Field in Panama City during World War II. She met Clark Gable one day while working as a secretary there, and danced with him that evening at a fundraising event on the base.
She meet her husband Edward, a poor Minneapolis kid, in a chance encounter in a drugstore in Florala, Alabama during World War II. Ed and Emily's brother Elmer were stationed at Fort Rucker at the time, and Elmer introduced Ed to Emily. She invited him to her home for dinner, and they soon fell in love and were married in 1944. They lived in Florida for three years, then moved to Indianapolis with their newborn daughter Gail in 1948 after a hurricane blew the roof off their home. They made friends and put down roots in Indy.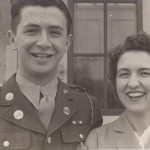 Ed and Bernice lost an infant son, Gregory, to a heart defect in 1952. They had another son in 1960, me, Doug. Ed developed a drinking problem after Greg's death. In 1962, he quit cold and joined Alcoholics Anonymous. Bernice was active in Al-Anon and together they helped many other alcoholics and their families find their way out of addiction.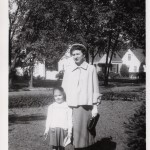 Bernice's daughter Gail married her high school sweetheart, Phil Barrett, in 1965, and they moved to Arizona.
Bernice got involved with Vivian Woodard Cosmetics, a network marketing company, in 1965. She was extremely successful, and with Ed handling all the paperwork, together they worked to develop an organization of over 500 women in Indianapolis selling cosmetics. Bernice was one of seven women at the highest level in Vivian Woodard, and the success allowed them not only to pay off their mortgage, but also to influence many people and their success along the way.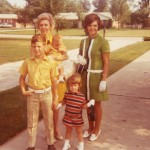 Bernice got involved in the Jesus movement in 1972. A lifelong Christian, she loved the active faith of those days and attended Wednesday night home meetings while still attending a Presbyterian church. In 1974, Gail and Phil moved back from the west coast to become associate pastors of the charismatic church Bernice and Ed attended. In 1974, they left that church and joined two other families in forming a new one — Indianapolis Christian Fellowship. ICF still stands today on the old Kiwanis Boy Scout property in southern Indianapolis.
I (Doug) married Teresa Abrahamsen in 1983. Bernice had six grandchildren and six great-grandchildren in total, and she loved and cared for each of them.
Bernice was always active in the church, leading Bible studies and counseling people one-on-one. She was an early adopter of a healthy lifestyle and worked at Georgetown Health Foods (now Georgetown market) in the 1970s. People remember her smile, her wit, and her energy.
Her husband Ed, developed colon cancer and fought hard for ten years before leaving this earth in 2002. Bernice lived alone for a few years, then lived at the nursing facility Kindred Greenwood in the final stage of her life. Dementia and Alzheimer's took her life at 92. She was the last of her eight brothers and sisters to leave this world.
My mother taught me how to care for other people. She taught me that helping others was one of the few ways to be happy yourself. She taught me how to persist and endure, and how to stay focused on a goal.
I'm proud to be her son.